Pillows - Yardage Chart
**Yardage is based on the following assumptions:
Fabric Repeat is conventionally run (not railroaded).
Fabric is cut the size of the form purchased.
For example, an 18" square is cut for an 18" pillow form.
Also, depending on the width of the fabric used, multiple pillows may be obtained.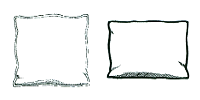 Basic Square Pillow
| SIZE | Fabric Repeat: 0" | Fabric Repeat: 18" | Fabric Repeat: 27" | TRIM |
| --- | --- | --- | --- | --- |
| 12" | 1/3 yd | 1/3 yd | 1/2 yd | 1 1/2 yds |
| 14" | 1/2 yd | 1/2 yd | 1/2 yd | 1 2/3 yds |
| 16" | 1/2 yd | 1/2 yd | 3/4 yd | 2 yds |
| 18" | 1/2 yd | 1/2 yd | 3/4 yd | 2 1/4 yds |
| 20" | 2/3 yd | 3/4 yd | 3/4 yd | 2 1/3 yds |
| 22" | 2/3 yd | 3/4 yd | 3/4 yd | 2 1/2 yds |
| 24" | 2/3 yd | 3/4 yd | 3/4 yd | 2 3/4 yds |
| 27" | 3/4 yd | 3/4 yd | 3/4 yd | 3 1/4 yds |
Basic Kidney Pillow
| SIZE | Fabric Repeat: 0" | Fabric Repeat: 18" | Fabric Repeat: 27" | TRIM |
| --- | --- | --- | --- | --- |
| 14" x 20" | 1/2 yd | 1/2 yd | 2/3 yd | 2 yds |
| Neck Roll (17.5" x 7") | 3/4 yd | 3/4 yd | 3/4 yd | 1 1/3 yds |